Nowadays the competition in the textile/apparel/fashion industry and significant increase of consumers interest in innovative and smart textiles are brining so much of change in the global textile industry. This is the first edition, in this article, we will review the latest innovation and smart product development and their characteristics and the advantages they offer to the textile industry.
For me, the first innovative product to put in this article is Vegetable Leather or eco vegan leather, consider as next-gen material. There are several ethical and environmental concerns involved in the processing of animal-based leather, killing of animals and the high environmental impact triggered the growing interests on the consumer side in more sustainable option and that is vegetable leather, it's a plant-based leather. There are several options or varieties available of vegetable leather such as: the company Ananas Anam has developed an innovative, sustainable and natural non-woven leather produced from pineapple leaf fibres. The material is strong, breathable, smooth, versatile, light, flexible, resistant to water and can cut and sew for various products. One more option of vegetable leather is Latex-based leather wherein the fabric is made by two renewable raw materials, the latex extracted from the rubber tree and cotton. The material can be used in the production of bags, wallets, clothing, footwear and so on. Product based on thin sheets of cork laminated with textile substrate are also being used in the market as a sustainable vegan leather (plant-based leather) alternative of animal-based leather.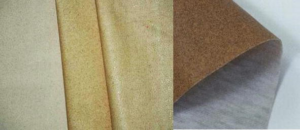 Many designers/brands such as Chanel, Stella McCartney, Yves Saint Laurent, Prada, Dior, Manolo Blahnik, Dolce & Gabbana, Gucci etc. have launched products based on cork leather, the products are fashion accessories, clothing, footwear, sports gears, furniture, automobile interior etc. Wood-based leather is also growingly used as an alternative of traditional leather (animal-based leather), recently Dolce & Gabbana has launched a collection of bags and shoes using this material. Wood-based leather is made from oak bark, a fast-growing tree, treated with non-toxic chemicals to make it durable, flexible and malleable, this leather can be as thick as animal-based leather. Few other options are WineLeather that is made out from skins and tales from grapes. The German company developed a material similar to leather obtained from coffee bean wastes. In addition to the above, lab-grown leather is also of the interest for many designers and brands. I shall write in details about eco vegan leather and other plant-based alternatives in textile and leather industry in my upcoming article about animal welfare in apparel/fashion industry.
Project Jacquard a smarter wardrobe with Jacquard by Google. In 2014, Google ATAP (Advanced Technology and Projects) developers began developing a conductive yarn that could be woven into textiles. The structure of Jacquard yarn includes two main components, conductive core and braided protective layer, however, the Jacquard yarn looks like regular yarn, and it can be woven into textiles reliably, no extra expense and at a scale. Apart from the threads, they have also developed a variety of small, thin electronic components as well as connectors to be attached to the threads, thus capturing and interpreting touch inputs and providing visual, audio or other feedback to the user.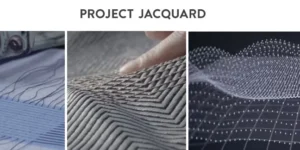 The first adopter of Jacquard platform is Levi's – the Levi's® Trucker and Sherpa Jackets with Jacquard by Google. The Jacquard Tag is smaller than a gum stick and has a battery life of up to two weeks. The tag connects to Jacquard app and allows you to personalize Jacquard-enabled wardrobe to do as per your wish. Google also partnered with other brands and companies such as Saint Laurent, Adidas GMR, Konnect-i Backpack by Samsonite and more.
Next in this article is about various start-ups into e-textiles or wearable computing textiles, a quick run-through. French startup Clim8 provides intelligent thermal textile technologies to monitor body heat, it senses the user's body temperature and regulate heating and cooling as per comfort. Indian startup Nyoka Technologies manufactures soft and flexible circuit systems that sense and promptly analyses data. The company does lot of customization in its solutions to meet the size, shape and functionality of their customers. They have developed a safety jacket for women that detects an attack and automatically deters the attacker with a mild electric shock and it also sends location info along with an SOS alert. MesoMat a Canadian startup develops a proprietary wire that conducts electricity. Their ultra-durable fiber is stretchable by over 50% while retaining conductivity. One more smart fabric developer is Myant, a Canadian startup that knits sensor into everyday wear to track body vitals and other parameters. To assist you in yoga practice improvement, Nadi X provides proprietary technology which includes integrated sensors and vibration. Nadi X is great for before and after workouts. The HugShirt by CuteCircuit, Women's leggings by Athos, Smart Shirts by Hexoskin, Sensoria's smart socks and more, this list can be too long. The global smart fabrics market was around US$5350M in 2022, and it is increasing YoY.