Printing on fabric using wooden hand blocks is called block print in India, earlier, only vegetable colors or plant-based colors were used in block prints. As per the recoded history, block prints on fabrics dates back to the ages, perhaps during Indus Valley civilization. From the Harappan period onwards, the cotton textiles with prints used to exported. Also, during the excavation of Mohenjo-daro site, needles, spindles and dyed cotton fibres were excavated. This proves that the artists during these civilisations were familiar with dyeing and printing (block printing). In India, block print is being done in various states such as Rajasthan, Gujarat, Andhra Pradesh, West Bengal, Punjab Madhya Pradesh, Uttar Pradesh and Maharashtra and they are named differently such as Kalamkari block printing, Ajrakh block printing, Dabu block printing, Sanganeri block printing and more and the artisans are known by various names such as Chippa Community, Chhimba Community, Serampore Community etc., all together makes India one of the largest manufacturers and exporters of block printed fabrics. Block printing not only done on fabric but on quilts, kurtis, shirts, sarees, home textiles, scarfs and other accessories etc.
In this article, we shall deep dive in various block prints of India. As this is my favorite  subject, during my days years back at NIFT and NID, I studied a lot about block prints, visited many artisans specially in Rajasthan, Gujarat and Madhya Pradesh, and also wood block making units, also developed few blocks as per my designs and used them for printing of my sample collections. This industry has evolved during recent years, the printing units are of better condition and technology and thus the quality of the prints and products improved a lot, though this industry is very labor-intensive industry. One thing is sure, this industry is deserved to be preserved, promoted and appreciated.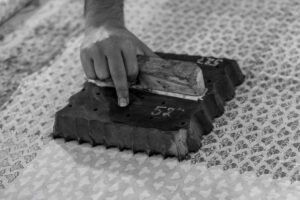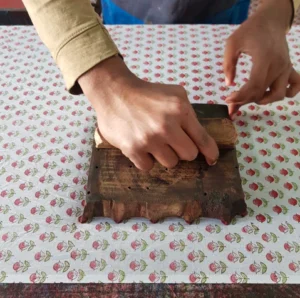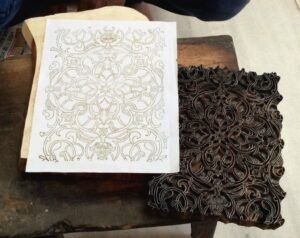 Ajrakh or Ajrak block prints from Gujarat: Ajrakh prints originated from Dhamadka village in Kutch (Gujarat) is very popular for their reversible prints, it features geometric motifs made using natural colors in red, black and blue (indigo blue which happens to be a predominant color in Ajrakh printing) designs of women, animals and birds, prints can be either one side or both the sides, each block print is symbolic or country's vast heritage and rich culture. Other well-known centres are Bhavnagar, Vasna, Rajkot, Jamnagar, Jetpur and Porbandar. The printing of Ajrakh is a very complex and may take up to two weeks, it takes lot of manual process.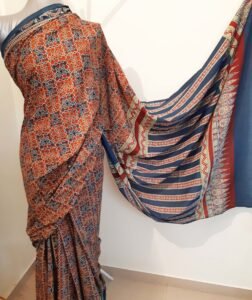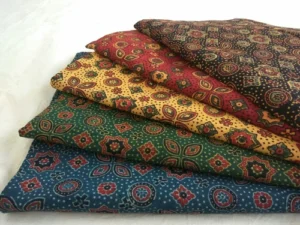 Kalamkari hand painting and block prints from Andhra Pradesh: As the name says, "kalam" in Hindi is pen in English, this printing is mis of hand painting hand block printing, it is originated from Machilipatnam region of Andhra Pradesh. Kalamkari is done with pen on cotton or silk fabric with dyeing and printing with natural color based on plants and fruits. Motifs in Kalamkari are mostly of peacock, flowers, paisley with divine epics of Ramayana and Mahabharata. Main colors in this print are earthy colors such as indigo, mustard, rust, black and green. For hand painting, a bamboo stick with bundle of fine hair is used as a brush.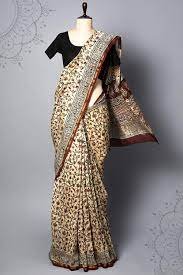 Sanganeri block prints from Rajasthan: Sanganeri prints originated from Sanganer village near to Jaipur city, this print is famous for their pure while or off-white backgrounds, local herbs and flowers are used in the printing. The designs used are of floral designs with buds, flowers, leaves, petals, almonds, mangoes, jhumkas etc. The Sanganeri bedsheet is very famous, other products with Sanganeri prints are home textile items, apparels, sarees, scarfs etc.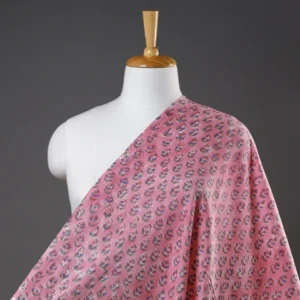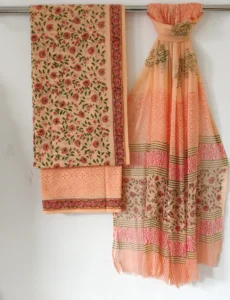 Bagru block prints from Rajasthan: Bagru printing is done by Chhipa community in Rajasthan is known for menu centuries, hand block printing with rich natural colors is used in Bagru printing. The motifs in Bagru prints are birds, fruits, leaves, animals and geometrical shapes, colors are indigo blue, alizarine red, iron black and bright yellow, the color of bas fabric is generally cream or yellow/light yellow. The Bagru printed material is used for apparels as well as home textiles such as cushions, bedspreads, quilts etc.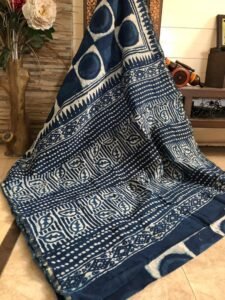 Rajasthan is also famous for other block prints such as Gold & Silver Dust, in other words we say is Chandi ki Chhapai/Sone ki Chhapai or Silver Printing/Gold Printing. Another print from Rajasthan is Dabu or Daboo which means mud or black clay (kali mitti).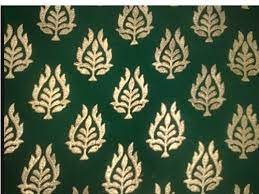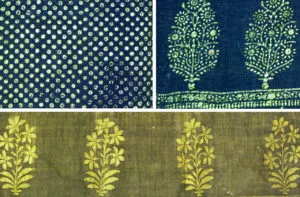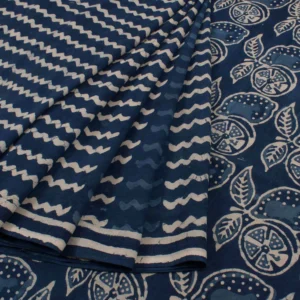 Bagh block prints from Madhya Pradesh: Originated in Bagh district, Bagh block printing is done by using natural colors mostly red and black. The print motifs are flowers, mushrooms etc. In those days, this print was introduced by Khatri community, migrated from Sindh to Bagh River.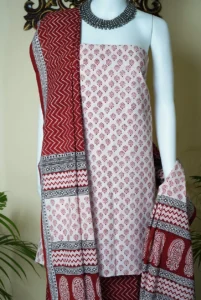 The Government of India (GOI) is helping and supporting block print and handloom artisans under various schemes and platforms, such as Make in India.