Stoles has been a part of women's wardrobe (and to an extent men's wardrobe too!) since a long, across the globe. The word stole derived from the Latin word 'stola', many countries do have a rich heritage about stoles; the material & design, occasion, matching style etc.
Stole is a famous fashion accessory; it became even more popular since stole became a part of the gift hamper for G20 delegates recently concluded in Bharat. The Prime Minister of Bharat, Shri Narendra Modi have carefully curated and compiled various rich cultural heritage and traditions of Bharat into a gift hamper that includes honey, saffron, ittar, tea, sandook, coffee and most importantly elegant stoles such as Kashmiri Pashmina stole, Assam stole, Kanjivaram stole, Banarasi silk stole, Iakkat stole. The gift hampers were given to G20 leaders and their spouses.
This article explores about stoles from Bharat (India) and the world. Stole is a famous fashion accessory, they are available in various sizes, styles, materials, colors and designs. Apart from fashion house or boutique, you can also find branded stoles in the accessory line of various brands such as Tommy Hilfiger, Mango, Benetton, Louis Vuitton, Sears, Kohl's and many more. Major suppliers are China, India, Taiwan, Germany, Italy and France. The fabric, color and style of the stole vary as per the weather or season, one can wear stole in any season be it sun, winter or rain, most common fabrics are Cotton/Pure Cotton, Silk, Bamboo Silk, Velvet, Wool, Chiffon, Organza, Linen, Khadi, Polyester, Cashmere, Net, Pashmina, Viscose + Cotton blended and more. There are various designs such as floral prints, multi-color print, digital printed, embroidered etc. available in stoles for female and male.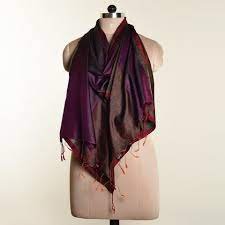 The trade of stoles majorly happens between China, India, France, Italy, Tunisia, Egypt, UK being exporters and US, South Korea, Japan, Hong Kong, China, UAE, France, Italy, Germany, UK and Switzerland being importers.