Wesley Ekman, Global Sales Director, Coats Digital
Wesley joined the Coats Group in 2020, as the Global Sales Director for Coats Digital – a global technology business transforming the supply chain within the fashion apparel sector from retailer to manufacturer. Wesley led the integration of the key acquisitions of GSD, FastReact and Intello into a single go-to-market strategy, to deliver a digital transformation roadmap specifically for apparel manufacturers. This covered design, development & costing through to production planning & shop floor execution and is underpinned by a re-engineered customer experience.
Wesley is responsible for managing Coats Digital's commercial teams and supporting customers locally in China, South East Asia, South Asia, EMEA and LATAM. Wesley is passionate about technology – especially with regards Cloud, BI, Data Analytics, Human Capital Management, and ERP Solutions – and is a registered mentor on MicroMentor where he coaches and guides entrepreneurs looking to build out end-to-end sales and customer care processes. He is a highly regarded thought leader and motivational speaker on topics around circular fashion, fashion industry digital transformation, and the delivery of optimum customer experience across omnichannel platforms.
TextilesResources.com: Give us an intro about Coats Digital – products, scale, strength and quality.
Wesley Ekman: Coats Digital is the global market leader in the ready-made garments (RMG) sector, with robust software solutions supported by real industry expertise that empower global clothing & textile manufacturers and brands to successfully automate key processes. Our vision is to establish an ecosystem of connected brand and manufacturing solutions that provide the real-time data insights and transparency that the fashion supply chain increasingly needs to deliver real growth, more efficient operations and meaningful sustainable business practices..
Our software solutions support Design and Development; Fabric optimisation; Method-time-cost (SMV) optimisation, Production planning and control, and Shopfloor execution. These solutions continue to deliver significant ROI to our customers and ensure that their business processes are robust, enabling them to more agile, more efficient and more profitable.
TextilesResources.com: How did Coats Digital come about? What did the performance and product proposition look like when the company was established and what is the current scenario? Also, can you highlight a few important milestones on the journey so far?
Wesley Ekman: Coats Digital is wholly owned by the Coats Plc Group LSE: COA and was formed, in 2019, as part of a merger of three technology companies – GSD Corporate, Fast React Systems Limited and Threadsol. Over the last few years, we have achieved some amazing results – launching two new cloud-first products to market – GSDCost and FastReactFabric (previously GSD and IntelloCut); expanding into two new markets in Turkey and Pakistan; and gaining SOC2 Type II compliance to ensure we continue to deliver vigorous industry-leading client data security for all our customers.
TextilesResources.com: You have offices in 12+ countries, what is your experience in handling different textile clusters and cultures?
Wesley Ekman: Our customer-centric approach is at the very heart of who we are as a business. For us, strong customer relationships are pivotal to our success and to ensure this, we are always physically present in the countries that we do business in. We believe in supporting our customers fully, so that our they have trusted advisors, fast support and to help them contextualise their digital transformation priorities effectively.
Having local teams on the ground that cover support, implementation, sales and training in every country means we get to build these personal relationships meaningfully. Being physically present and available whenever our customers need support and advice is, in fact, one of the key reasons for our consistently high customers success rates.
TextilesResources.com: How do you anticipate Coats Digital to scale ten years from now? What is your vision and future plans in terms of expansion, product enhancement, after sales support etc.
Wesley Ekman: Coats Digital plays an instrumental role in digitally transforming the RMG and textile industry, by helping businesses of all sizes, modernise effectively to become technology-led manufacturing entities. Coats Digital is also a key facilitator towards industry change by supporting the development of more sustainable and better engineered products. Smart technology thus helps businesses not only drive more effective and efficient manufacturing processes, but also ensures both brands and manufacturers can develop and produce more sustainable, cost effective garments in a timely way. I predict that in 10 years' time, Coats Digital will be a household name across the fashion industry – much like SAP and Oracle are in the finance field.
TextilesResources.com: What are your critical takeaways relating to collaboration, competition and challenges?
Wesley Ekman:
Collaboration
In the modern world of tech, collaborations play a big part in driving the industry forward and we have embraced both partnerships and integrations with some of the world's leading technology companies. At the end of the day, its about creating value for the customer, solving their complexities and ensuring that the different applications needed to manage cross functional capabilities between brands and manufacturers, (from 3D design, to financial management down to shopfloor control) are being integrated seamlessly into our digital ecosystem – and vice versa into others.
Competition
We are seeing the emergence of a number of new market entrants that compete directly with us on certain point solutions. On the one hand, we face greater competition, on the other, there are more technology concerns out there that are educating the market on the importance of digital transformation and thus building a stronger momentum for real change. This is vital to ensure the fashion industry overcomes its anachronistic ways of doing business, so it can future-proof effectively in line with other manufacturing sectors.
Challenges
Challenges are ever present in every industry, yet the garment industry has faced some of the most difficult operating conditions since 2008. Raw material costs have increased, labour costs have also gone up, product mix remains complex, and orders have been low. The net effect is that although there isn't a lot of spending on IT projects, every business is still looking at ways to increase productivity, reduce inefficiency and improve profit margins. This is why so many brands and manufacturers are acknowledging the real value in Coats Digital's product offerings – and why we are consequently having hundreds of conversations with fashion supply chain companies every week.
TextilesResources.com: After sales support, customer support is very important in the software services industry. What do customers think about Coats Digital?
Wesley Ekman: We are particularly proud of our superlative industry knowledge and expertise. We only hire the most experienced people in the industry who have that rare blend of RMG manufacturing expertise, as well as a technology background. It's no good simply being able to answer questions about our software. It's the application of industry know-how that truly sets us apart from the rest. We need to achieve a real impact that helps our customers not just solve their problems, but empowers them to be more innovative so they can realise added value benefits as well.
Achieving customer support excellence is not a destination, but a continuous journey of investment in people, training, knowledge-sharing and technology to enable and empower ourselves and our customers.
TextilesResources.com: Sustainability, AI, ML are very important components in our industry, how is Coats Digital addressing them in their products/services?
Wesley Ekman: Sustainability is one of Coats Digital's core values. Every solution we build and engineer incorporates some features that improve sustainability in some way or other. We have introduced a Fair Wage Tool by partnering with the Fair Wage Network, for example, to improve fair wage calculations in labour costings. AI is also embedded in our FastReactFabric solution to help cutting rooms reduce material wastage; And in our VisionPLM solution, we have incorporated carbon impact tracking as part of our product development lifecycle offering.
AI and Machine Learning (ML) will play an important role in advancing sustainability projects, and we have already incorporated these into some of our solutions to support the robust simplification of large volumes of data, so that innovative improvements can be found to reduce waste, optimise operating efficiency and develop lasting solutions that make a meaningful difference.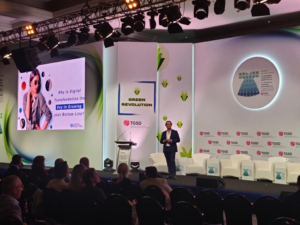 TextilesResources.com: How do you differentiate acceptance and adoption of your products/services between a top manufacturers or brands Vis-à-vis SME manufacturers/small scale brands? Any important indications?
Wesley Ekman: At Coats Digital, we know our customers, what moves them, what they struggle with, how they see technology adoption, and what their own barriers to execution are. Each customer we engage with is unique, so our approach is tailored to each customer, taking into consideration their level of maturity and strategic drivers, so that we can work collaboratively to provide them with certainty, compelling ROI and robust business support.
TextilesResources.com: How does Coats Digital ensure the best work environment and employee friendly practices?
Wesley Ekman: Coats Group is a people-centric organisation and a lot of time and money goes into training and supporting our people – with a strong focus on creating safe, ethical and motivating workplace environments. We recently received a reward for the 'Best Place to Work in Asia'. This kind of external validation continues to reinforce our commitment and investment into our people, culture and ethics.
TextilesResources.com: Any important message or announcement for industry professionals and readers of Textilesresources.com?
Wesley Ekman: Embrace the change? Believe and invest in your people! Benchmark yourselves against those that are leading the way! And strive for a better, more inclusive and digital future!