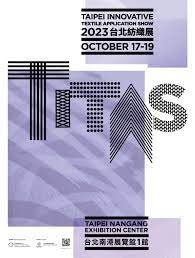 17 – 19 October 2023 at Taipei Nangang Exhibition Center, Hall 1, No. 1, Jingmao 2nd Rd., Nangang District, Taipei, Taiwan
A Leading Sourcing Hub for Hi-tech & Hi-performance Textiles TITAS, the 27th Taipei Innovative Textile Application Show, will be held at Taiwan's Taipei Nangang Exhibition Center, Hall 1 from 17-19 October 2023. Innovation and sustainability are viewed as the core of future development for Taiwan's textile and fashion industry. Inline with the industry's development and consumer needs, TITAS focuses on the three core themes of "Sustainability, Functional Applications and Intelligent Manufacturing" to highlight the strength of textile research and innovation.
The event showcases a variety of high-tech and high-performance textiles boasting sustainable benefits and functional applications. Exhibitors also include those continuing to integrate their product lines in the way of smart or intelligent manufacturing – especially textile machinery and sewing equipment. TITAS is a platform of vertical communication and knowledge exchange between the different sectors within the textile industry.
This year, 400 exhibitors from across the globe are expected to showcase their innovations and booth numbers are set to exceed 1,000. With a rich and diversified range of exhibits, TITAS will be sure to meet buyer's one-stop purchasing expectations.
Exhibit Scale 400 companies with 1,000 booths (estimated)
Exhibits Fibers, filaments & yarns, fabrics, OEM/ODM apparels, trimmings & accessories, Textile Machinery & Sewing Equipment, textile-related technologies & services
Visitors 30,000 (estimated)