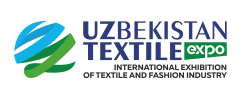 7th International Exhibition for Textile and Fashion Industries "UzTextileExpo Autumn 2023"
18 – 20 October 2023 at Tashkent, Uzbekistan
UzTextileExpo is the unique international specialized exhibition of textile and fashion industry in Uzbekistan. It is actively supported by all relevant government agencies and industrial associations. Uztextile Industry Association and Textile Promotion and Marketing Agency act as co-organisers of this tradeshow.
The exhibition allows to demonstrate the achievements of the textile business and fashion industry from the world's leading manufacturers along the entire production chain – from yarn to ready-made clothing. The event efficiently promotes development of trade and economic relations with the textile and garment industries of Uzbekistan which occupy the second place on the volume of industrial production of the country, as well as helps to find partners to sell textile products, clothes, underwear, shoes and accessories on the largest consumer market of Central Asia with a population exceeding 35 mln.
First of all, UzTextileExpo has a unique target audience. It is visited by over 9000 visitors annually, 90% of them are industry experts. Target audience of the exhibition includes the representatives of the Government of Uzbekistan, heads and specialists of textile and garment producing enterprises from all over the Central Asian region, representatives of large retail chains, wholesale and retail trade enterprises, business circles, scientific and research institutions.
To assist local producers in expanding their geography of exports, a Special Buyer Programme is being implemented within the framework of the exhibition. Over the years, more than 800 large wholesale buyers, retail chains and manufacturers of textile products from 35 countries successfully took part in it. Also within the framework of the exhibition, an Extensive Business Program is being implemented. It includes the International Uzbekistan Textile Conference (UTC), numerous rounds of b2b meetings, ready-to-wear fashion shows, master classes from leading designers and industry experts.
Over the years, the exhibition has become the most anticipated and significant event in the industry of the region.